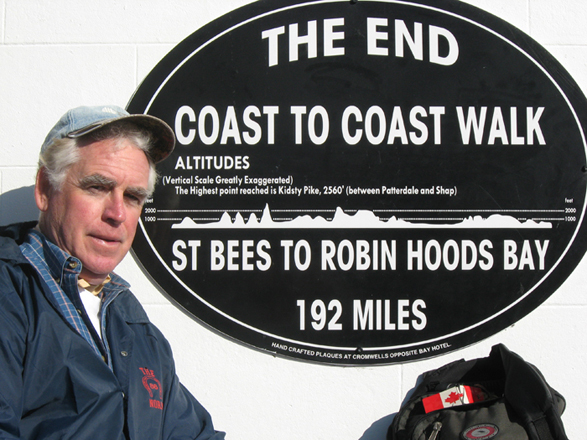 Writer William Thomas completed England's 'Coast To Coast Walk' across the width of the country from the Irish Sea to the North Sea -192 miles in 14 days on 28 pints of real ale and a Full English Breakfast each morning.
Hiking across England's most remote and rugged countryside in the worst weather seen in years -William had this grand epiphany. "You are never too old to come up with a really bad idea." Still, he did it! ALONE!
Proving that relevance does not end with retirement and although 65 may not be "the new 50" it sure ain't "the old 65" William will share all the gaffs and laughs and everything he learned with your group or audience. Like::
o You may not sleep well at your age, but you can still dream.
o They may look cute and cuddly but sheep are evil little demons.
o As fresh-faced youngsters pass you on the path of life, trip them as they go by.
o Never take a laxative with a sleeping pill.
o You too can slow the aging process with Advil, alcohol and ice.
o Learn how to read a compass or visit the same village twice.
o The map said 'hug the wall.' I hugged the wall. Nothing happened.
A hilarious story of challenge and inspiration by "William The Conqueror Junior."
Book William to speak at your next big event. call 905-834-0022 for information.